Aubrey Elevator
Marvell Terminal
Marvell Elevator
David Ishmael, Manager
870-295-3978
Storage Capacity: 700,000 bu
John Kale, Manager
870-829-2026
Storage Capacity: 1,300,000 bu
Chris Kale, Manager
870-829-3011
Storage Capacity: 160,000 bu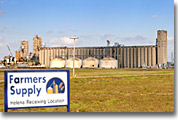 Helena Terminal
Skip Scarbrough
870-995-3961
870-753-9260
At Farmers Supply we are in business to serve you. Our goal is to provide grain marketing and handling services to maximize your profitability.
Our elevators are licensed by the State of Arkansas, which mandates net worth and working capital minimums and periodic audits as to grain quality, grain inventories and accounting practices.
Farmers Supply is a member of the National Grain and Feed Association.
Farmers Supply has continually upgraded its facilities and personnel to keep pace with increases in speed of harvest and crop size. We offer extended hours during harvest. We strive to provide full service elevators offering all the handling and marketing services a busy grower needs.
Click on a link below for more information
Fast Unloading and Friendly Service
Please contact us if you need additional information or pricing.
800-928-2578
or
870-829-2578
215 Highway 1 · P.O. Box 248 · Marvell, Arkansas 72366